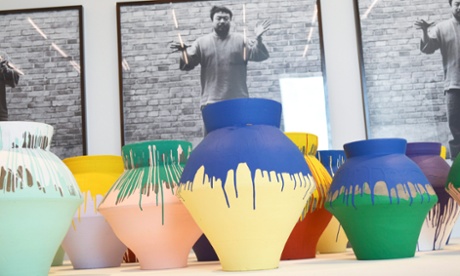 The headlines in
The Guardian
:
Miami painter thought $1m Ai Weiwei vase was Home Depot-style pot
• Maximo Caminero smashed Chinese artist's vase at museum
• Act was 'spontaneous protest' in support of local Miami artists
Ai Weiwei shows, in the new Pérez Art Museum in Miami, a group of Han Dynasty vases, over 2000 years old, that he has painted in bright colors, i.e. defaced. They stand in front of a series of photographs showing him dropping another Han Dynasty vase and smashing it to bits.
This is art.
Local artist Maximo Caminero sees the installation, picks up one of the vases, and smashes it. This is a crime. He goes to jail.
And Weiwei condemns him, because the vase "was not his property".
Richard Luscombe
The Guardian
February 18, 2014
Nick Madigan
Ai Weiwei Vase Is Destroyed by a Protester at Miami Museum
The New York Times
February 18, 2014