In a winter storm last month, sections of the tile facade came off Sanitago Calatrava's
Palace of the Arts
in Valencia. The regional government announced it will consider suing the architect and the builders for damages.
Areas of "wrinkling" or buckling tile were first observed early last year, but neither the builder or Calatrava assumed responsibility, according to the government. The building's curving surfaces are covered in a mosaic of broken tile known as
trencadís
, adapted by Calatrava from the works of Gaudí. The building cost 478 million euros, including a 44 million euro fee for Calatrava, the Spanish newspaper
El País
reminds readers in its
December 27th story
on the problem.
A
Europress
story published in the
Heraldo de Aragón
yesterday offered the government's first evaluation of damages. A preliminary study finds 60% of the facade affected. Engineers recommend the complete removal of the tiles and their replacement with white paint over the steel under-surface (sounds pretty tacky, doesn't it?).
The estimated cost is over 3 million euros, plus the expense of cancelling the opera
Manon Lescaut
, scheduled to open February 2nd (another 600,000 or more). Officials hope to have the building secured for the next scheduled opera on February 23rd. The work will also affect the filming of the Disney movie
Tommorrowland
scheduled this winter.
Update March 1, 2014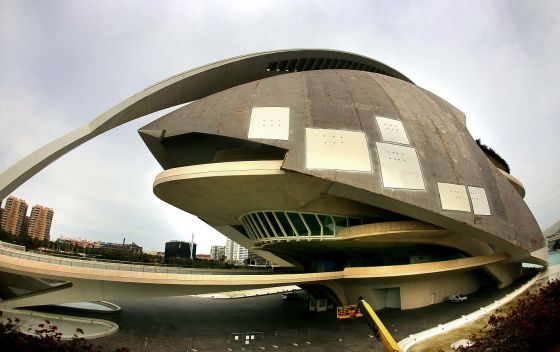 The Palau stripped bare of is trencadis, even. From
El País, April 2, 2014
. Photo: Tania Castro. The white spots are test areas for sample paint.
Update Jan. 10
El País
informs today that Calatrava and the builders have met with the local government and agreed to find a solution to the problem and pay for the costs, thus adverting a possible court case.
The problem appears due to the different coefficients of expansion under temperature changes between the tile and its steel backup. No problems have appeared where tile is applied over concrete, the engineers' study reports.
Joaquín Ferrandis
El Consell emprenderá acciones legales contra Calatrava y la UTE de Les Arts
El País
December 27, 2014
Europa Press
Valencia estudia demandar a Calatrava por los daños en el Palacio de las Artes
Heraldo de Aragón
January 8, 2014
Ferran Bono
Retirar el 'trencadís' del Palau de les Arts costará tres millones de euros
El País
January 10, 2014
Ferrran Bono
El Consell asegura que Calatrava y la UTE reprarán Les Arts y asumirán el coste
El País
January 10, 2014
A
gencia Efe
El despacho de Calatrava y UTE asumirán la reparación del Palau de les Arts
El País
January 10, 2014
Ferrran Bono
Calatrava's opera house: a rip-off?
El País
(English edition)
January 12. 2014
Opinion
Anaxtu Zabalbeascoa
'Trencadís and footing the bill
El País
(English edition; article at bottom of page)
January 12, 2014
José Ramón Giner
Un 'trencadís' cultural
El País
(Valencia edition)
January 12, 2014
Ongoing compilation of news stories in
El País:
http://elpais.com/tag/santiago_calatrava/a/