I couldn't resist republishing this blog from
Exabruptos
, by my colleague-in-arms, John Sandwich: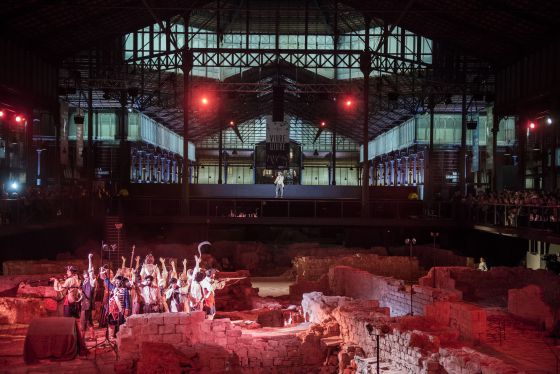 Readers of Spanish, please don't miss Jacinto Antón's virtual tour of the new museum of Catalan hurt feelings in
El País
this Sunday,
Born to Si, Si
.
The project for a library in the building was cancelled, and now it has been opened as the Born Centro Cultural,
"a sort of theme park glorifying that Barcelona razed by Phillip V's Bourbon troops in 1714,"
in the words of a more uncritical report published in
El País
on
September 10th
.
Antón explains:
"The Catalan sovereignty movement finally has a modern tool capable of transmitting its version of history and stir emotions in a mass audience...

"The fundamental experience pursued in the Born CC does not truly belong to the field of historic knowledge, but rather to that of
emoción identitaria
, the identification with a people and a destiny, with its projection into the future ('the Catalan people maintained the memory of their liberty forever after'). And everything with a modern, impeccable aesthetic and design, equal to that of any European museum."
September 11, 2014 will be the third centennial of this conquest, just in time for the referendum on Catalan independence that the government of Arturo Más is attempting to organize, as a diversion from his disastrous economic policy.
You know the old routine, things are going bad, find someone to blame.
Makes me think back on the emotionally manipulative exhibit displays at Washington's Holocaust Museum, opened in the 1990s. There the aim of moral education is theoretically more universal, but as my friend David Cohn wrote at the time, shouldn't we have more faith in reasonable argument, also on moral grounds? Emotional communication is for another sphere -- but exactly which one?
Meanwhile the grim historic facts about the repression of Catalan identity on the part of centralizing forces from Madrid are quite solid. Archeologists recovered 300 cannon balls from the ruins under the Born, for example; 60 are in the exhibition.
A few more pearls:
"El Born CC, que tiene parte de Yad Vashem —el museo de los mártires y el heroísmo del Holocausto, en Jerusalén— y parte de parque temático, con un puntito de Nou Camp (en los dioramas y reconstrucciones históricas las casacas de las tropas que defendieron la ciudad son mayoritariamente azul y grana y las de los atacantes borbónicos, blancas)..."

"...por todas partes en el Born CC el visitante encuentra alusiones a lo feliz, fantástica y próspera (incluso con helados) que era la vida hasta la Guerra de Sucesión —como si los catalanes fueran un pueblo de industriosos hobbits sobre los que se cernía la sombra del Mordor borbónico y su "barbarie absolutista— y mensajes más o menos subliminales tipo '1714-2014 Vivir libre', 'Feliz Tricentenario', 'Reborn'...."